STRONGER is our annual Conference for women in leadership. There are three general sessions and over 30+ workshops. You are sure to experience leadership growth to thrive personally and professionally, so do not miss it!
(Registration Required for this Event. More info coming soon!)
Happening March 24th – 25th, 2023
We are now only accepting Walk-in Registration:
$90 / Student – $50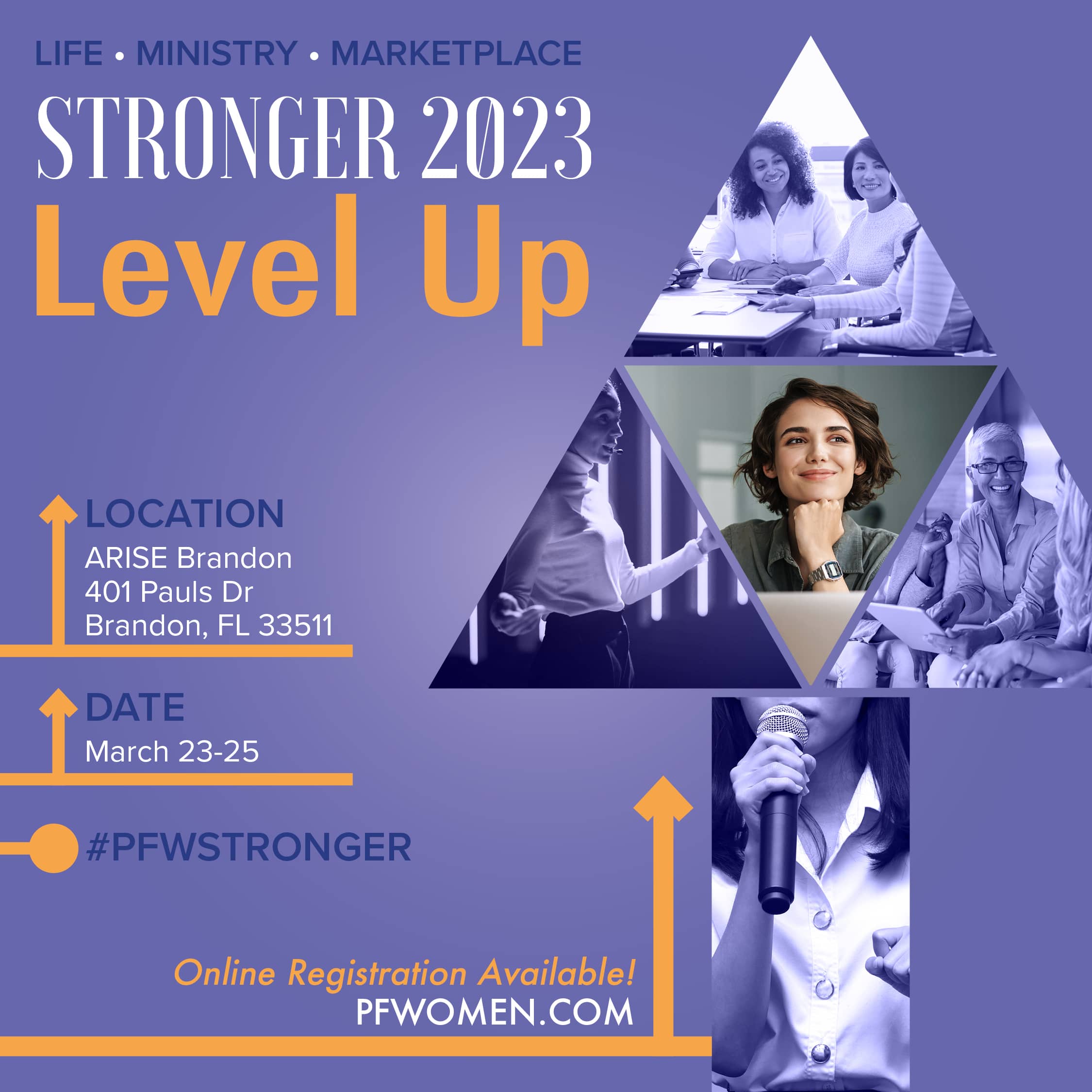 ARISE Brandon
401 Pauls Dr.
Brandon, FL 33511
6:30 pm – 8:30 pm: Women in Ministry Dinner

(Family Ministries Center) (Ticketed, Pre-Registered Event)
8:00 am: Registration Opens

Gift Giveaway at Start of each Session

10:00 am – 12:00 pm: Main Session 1

(Boutique & Booths Closed)
Immediately following Main Session 1, Deanna will host a book signing at her book table. 

12:00 pm – 1:30 pm: Lunch
1:30 pm – 2:30 pm: 5 x 10 Session

(Boutique & Booths Closed)

2:45 pm – 3:30 pm: Workshop 1
3:45 pm – 4:30 pm: Workshop 2
4:30 pm – 6:45 pm: Dinner Break

Gift Giveaway at Start of each Session

7:00 pm – 9:00 pm: Main Session 2

(Boutique & Booths closed)
9:00 am – 10:00 am: 5 x 10 Session

(Boutique & Booths closed)

10:00 am – 10:30 am: Break

Gift Giveaway at Start of each Session

10:30 am – 12:30 pm: Main Session 3

(Boutique & Booths closed)
Next Level Discipleship - Dominique Abiuso
One of the main issues in the church today is a lack of solid discipleship. Dominique is passionate about discipleship and has creative ideas and strategies to help you lead those you serve into a deeper level.
Next Level Self-Care - Jeannette Alcantara
Self-care is NOT selfish! It's impossible to go to the next level in all areas of your life without including this element. Join licensed professional counselor Jeannette Alcantara as she explores this vital subject.
Level Up Productivity - Tina Blount
Have you ever found yourself wondering, "How long can I maintain this pace?" If so, you are in good company. From the days of Mary and Martha, women have struggled with the challenge of how to live incredibly productive lives while also navigating the tension of how to maintain longevity and their sanity. In this workshop, you'll learn the difference between being successful and being fruitful, as well as tried and true strategies to help you along the way.
Breaking Old Patterns & Living in Freedom - Tara Boddie
Learn how to step out of assumptions, attitudes, and limiting beliefs and cultivate right thinking to move forward in victory.
Real Talk for Pastors' Wives - Shay Cole
Whether you are a new or seasoned pastor's wife, God wants more for you than survival. He wants you to thrive! Come and gain encouragement from Shay Cole who is passionate about many things, including being a pastor's wife and maximizing the role for the glory of God and the good of others.
Marketing Your Ministry for Greater Impact - Dr. Sheila Cornea
A strategic marketing plan can take your ministry from best kept secret to top-of-mind solution in your community. The practical insight offered in this session will guide you through the key steps to leveraging your leadership influence to make a greater impact through your ministry.
When I Can't See His Hand - Judi Cotignola
All of us have walked through times of confusion where we feel like we can't see one step in front of us. How do we walk in faith when we feel like we are walking in darkness? Come and receive encouragement to trust God's heart even when we can't see His hand at work.
A Theology of Women in Ministry - Lindsey Croston
Have you ever had someone ask you about whether God and scripture is okay with women leading in the highest levels in the church? Come and learn biblical truth from Lindsay Croston, professor at SEU, that will set you free to soar.
Next Level Care for Those You Lead - Linda Klippenstein
In order to be the most effective leader, you must be a lover of people. True care for others will always be one of the most important aspects of successful leadership. Come and learn from one of the best at doing it.
Overcoming Injustice at the Hands of Leadership - Pam Kneer
After she came forward with an accusation of sexual harassment, Pastor Pam, 20+ year ministry veteran, lost everything. Her story was proven true, and she has rebounded in ministry but not without a lot of challenges to navigate. People attending this conference are facing injustices of every kind. Come and hear how to thrive through injustice.
Stepping Into the Lead Role - Becky Manassa
Female lead pastors face unique and often trying circumstances as they navigate their roles. Many times they may feel like there are few people who truly understand the challenges they combat. Join Pastor Becky and receive encouragement to thrive in this role!
How to Lead Through Servant-Hearted Leadership - Renee Mathews
Being a servant is one of the most important aspects of being a leader. Servant-hearted leadership can totally revolutionize you and the organization that you serve. Come and learn from Renee, who models this so well!
The Leader & Hard Conversations - Dr. Deanna Shrodes
Do some conversations you have to have as part of your leadership role leave you literally feeling sick? Do you dread some talks so much, you put them off as long as possible? Are you ready to learn how to master difficult conversations? Deanna is ready to share wisdom with you about how to take the lead in challenging conversations and bring your ministry or organization forward through whatever threatens to slow you down or discourage you.
Depression: You Are Not Alone - Kimberly Stratton
Many leaders struggle with depression, and this is one of the most common mental health concerns worldwide. In this workshop you will discover strategies and coping techniques from a licensed mental health counselor.
Mastering Transitions - Shamya Tolbert
The process of transitioning can be one of the hardest to face. In this workshop you will learn common feelings and emotions associated with transition and identify strategies to navigate the process well.
Stepping Out into Your Next Level with Confidence - Dianna Walston
It's time to be released from limiting beliefs that have been holding you back. In this workshop you will receive encouragement to step out into what God has called you to do.
Come together for a time of encouragement with those walking the same road.
Lead Pastors' Roundtable with Wendy Hargrove
Pastors' Wives Roundtable with Jennifer Spivey
Church Staff Roundtable with Andrea Cotignola
Under 30 Roundtable with Gabrielle Santiago
Widows Roundtable with Bonnie Olsen